VOTING POLL
Autumn colour starting to come in strong now and we have an almost colourless group of Souls for this Month's SOTM. They may not be brightly coloured, but they are beautiful cars that are loved by their owners. So give your favourite your vote............and maybe think about entering your's next Month eh?
VOTING ENDS AT 09:00 AM on September 30th 2014
janetsm1960
I want to submit my pics of my new 2014 Kia Soul - Red Zone....
She went on her first road trip over the labor day weekend.... So I wanted to show her off... she took the mountains of Tennesse and North Carolina with no trouble at all.... I love the look and feel of her.... she is very special... she is one of 2000 made....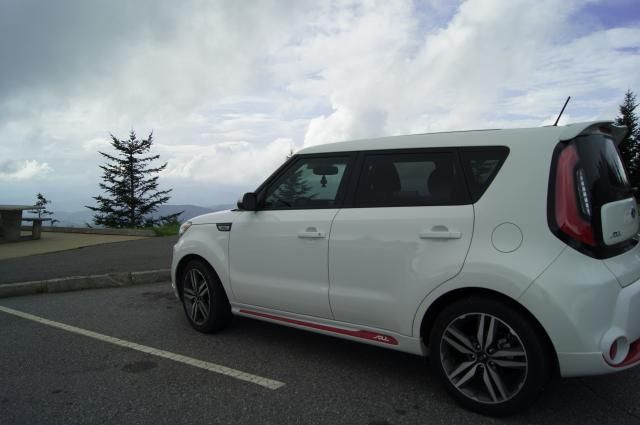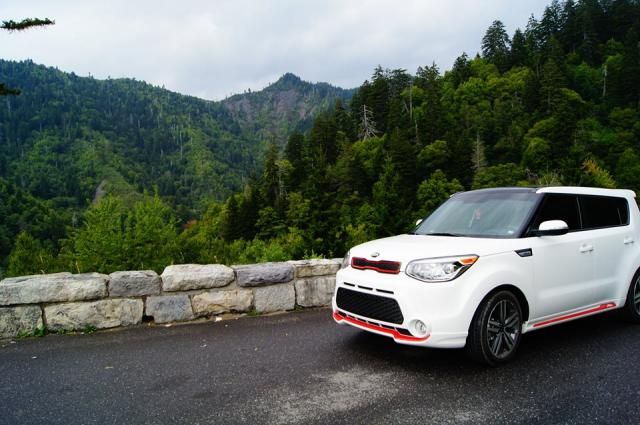 McoryB
After a year with a plain white 2013 Kia Soul+, I discovered Plasti Dip and decided it was time to customize to suit my tastes. So far, I've dipped the chrome portion of my grill, my rear emblem, front and rear license plate frames, the center caps on all four wheels, the side vents, and the portion above the rear window (which comes in handy trying to find my car in a crowded parking lot!). And I've embellished the rear window with the Apple logo, the Haunted Mansion Hitchhiking Ghosts and Grumpy the dwarf. Plus, I just picked up my personalized plates the other day. This will all have to do until I can upgrade in a couple years.
cbetts
Oh, what the heck. Let's add another white Soul to the mix!
2013 Soul +
11,000 miles
It came with the following:
Remote start package
Center Console
Spare tire
Rear organizer
Rear cargo cover
Locking lug nuts
Sirrius/MP3/Bluetooth radio
iPod cable
Performed the following mods:
Wolo Bad Boy air horn
SSD Engine Cover
SSD Chambered Muffler
ProClip Cell phone mount
Litter bag mount on back of console
ScanGauge II mounted in sunglasses cubby
Andre4548
Okay, I haven't been on the site in quite some time, so I am going to enter my 2013 Soul in this month's contest. This is actually a base 1.6 MT with alloy wheels and a dash kit that I purchased with my Kia Mileage Reimbursement money and installed myself. The rain guards and hood deflector were installed by the dealer, as were the mud guards.