If anyone has followed me for the last four + years, they would know I'm an OFF-Road nut.
I now find that my little Gertrude (my Kia Soul) is never happier than when she's tearing up some back trail.
Today was sunny and warm, the perfect day to do some trail running. Here's a few pic's I took along the way.
Starting out at home, this road runs right by my house.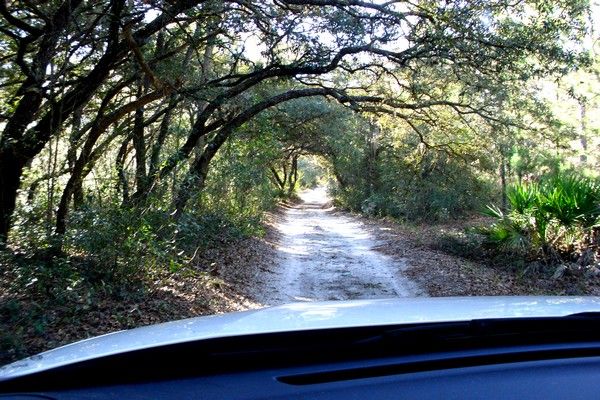 At 20mph, it's just a nice run. But at 30+, it's just plain Scary. You never know when you might
meet another vehicle coming at you.
Then a couple of miles away, it gets a little more rough and tumble.
The little four-wheelers have left these sand roads pretty High Banked
It's either take the banks, or hit the rocks in the road. I'll take the banks! Rocks are hard on oil pans.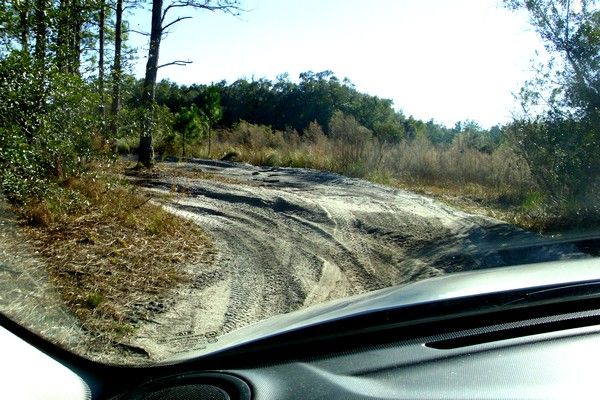 Gertrude loves taking those high banks. I have to take this corner very carefully as there are rocks
sticking up almost a foot, in the middle of the road. Gertrude just nimbly steps over the rocks.
She's like a mountain goat!
Then, there's those dang Chicanes! You may remember those from "Moto Cross" racing.
They can really rattle your teeth. But Gertrude takes them in stride.
Parked at he side of the "Big Mud Hole" I snapped this picture of a small boy on a trail bike on the other side of the pond. I found out later, that he's only Five years old. He was really 'tearing it up'.
Many parents bring their kids out here, to ride where there is no traffic to worry about. Plus, it's private property, so they can't get a ticket for driving without a license.
There were no family cars at the old mud hole today..... just 4x4's and big Pickup Trucks, and one Kia Soul.
And about ten Four Wheelers. It was a real Circus.
On Super Bowl Sunday, there will be many BIG mud trucks out here, trying to get across that pond without getting stuck.
A few years back, there was over 3000 people out here, on Super Bowl Sunday.
There were motor homes and food vendors and many "Monster Trucks"
I'll be there this year too.
Cheers Mates and Happy Off Roading! (Y'all come on down now and have a good time, Y'hear?)
TechnoMage